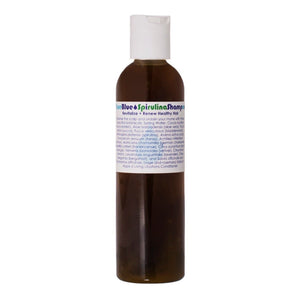 This transforming treat for tired, over- processed tresses is infused with a tremendous trifecta of azulene-containing essential oils: Blue Tansy, Yarrow and German Chamomile. This beneficial compound gets unveiled in the process of distilling the essential oils. Whether you suffer from dry scalp or tired, lackluster hair, regular application of TrueBlue Spirulina Shampoo will help your hair and scalp return to a natural, lustrous condition.
Colored Hair
Similar to radiant skin, radiant hair is coated in natural oils that protect each strand and keep the hair elastic, smooth and shiny. The scalp produces these oils in exactly the right amount to keep the hair lubricated. Synthetic hair products, even those marketed for treated and colored hair, strip away these oils, irritate the scalp and damage hair follicles. Some of the harsh chemicals in these products, such as sodium lauryl sulfate and oleyl betaine, can cause hair color to fade fast. Instead of the full, shiny, smooth locks promised on the bottle the result is often dull, faded and lifeless hair.
Our shampoos are great for colored hair. Healthy looking hair sets the stage for dimensional color and shiny strands. The day or night before you plan on applying color, use our super hydrating, heavenly Honey Myrtle Hair Conditioning Mask or sleep with Shine On or True Blue Spirulina Conditioners in your hair overnight. This will prime hair and pave the way for luminous color afterward. Plump strands of hair grab on to the dye and hold color longer without fading. A few days after coloring your hair you may want to skip all hair products to give the dye ample time to set.
Directions: Suitable for all hair types, including children's hair and colored hair. Wet hair and massage into hair and scalp. It can be used daily, but we prefer washing hair only once a week, if possible. Best when followed with True Blue Spirulina Conditioner.