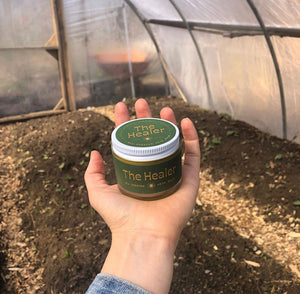 THE HEALER is an infusion of Calendula, Plantain, Marshmallow, and Chamomile in NY grown organic Sunflower Seed Oil, and NY beeswax. All herbs are either grown on site at Suntrap Farm or sourced from small farms we trust.
THE HEALER is a heal-all balm for any skin deep irritations. Keep a jar around to moisturize dry hands, speed up the healing of cuts and scrapes, and soothe bug bites. Bike touring and camping friends consider it an essential item to pack. Has also been known as an AMAZING nighttime moisturizer. 
Packaged in a 2 ounce glass jar.
Ingredients: Organic NY grown sunflower seed oil, local beeswax, Calendula officinalis, Althea officinalis, Plantago major, Chamomilla matricaria.
 Directions: External use only. Apply often!