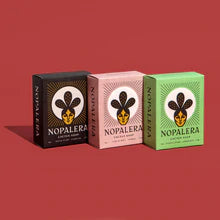 Nopalera's signature cactus soaps are handmade with skin nourishing plant butters and oils that cleanse but do not dry out your skin. 


Great for:  
All skin types. Whole body & face. 
Noche Clara (black soap)
: Good for oily / acne prone skin. Charcoal provides gentlest exfoliation. Subtle scent of sage and eucalyptus oil
Planta Futura (green soap)
: Good for all skin types. Subtle scent of lemongrass oil to bring clarity of mind.
Flor De Mayo (pink soap)
: Good for sensitive and dry skin. Pink clay creates a creamy lather. Allow the subtle scent of Jasmine oil to anoint your body. 
1 Planta Futura Cactus Soap
1 Noche Clara Cactus Soap
1 Flor De Mayo Cactus Soap
Vegan
Cruelty Free
Made by Hand
Palm Oil Free
No Synthetic Fragrance or Dye