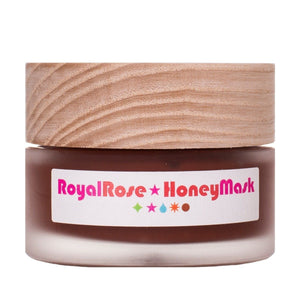 Living Libations Resplendent Royal Rose Honey Mask is a cleanser and beautifier of royal proportions with ravishing Rose petals and clarifying Rose clay swirled into the opulent enzymes and nourishing nutrients of Wildflower Honey.
Envelop your skin in a royal cleansing ritual resulting in skin that is silky soft and primed to rise to any occasion. Royal Rose Honey Mask combines sweet Rose petals, Rose clay and adds to this active ambrosia, CoQ10 for firmer skin, precious Pearl powder to polish, Myrrh for moisture, Immortelle for balance and a bouquet of extraordinary essential oils that tone the skin. This majestic, mineral-rich mud mask multitasks to restore, rejuvenate and revitalize skin.
Directions: For daily cleansing, massage a small scoop onto warm, damp skin, making circular motions with fingertips before rinsing clear. For a mask, smooth over freshly cleansed skin with a touch of water for increased spreadablility and leave on for 15 to 30 minutes. For a luxury home spa treatment, cleanse first with Rose Best Skin Ever (or any of our Best Skin Evers), follow with the mask application, and finish with a DewDab target treatment and Royal Rose Serum.