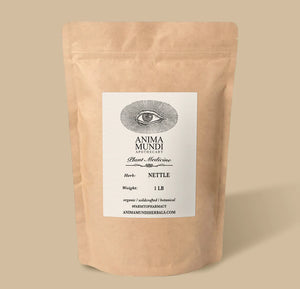 We love offering herbs that can complement your fellow tonics. Nettle is one of the most commonly used herbs on the planet, used since ancient times, rich in lore with a plethora of healing benefits confirmed by the scientific community.
Nettle is one of those plants you can add to virtually anything. Soups, pesto, ice cream, mixed with your nutritional yeast with your popcorn, or just in a simple nutrient dense tea with rose or your favorite herbs. 
Key Benefits:
Nutrient dense (contains a high amount of protein, iron and calcium)

May reduce inflammation*

May treat hay fever*

May lower blood pressure*

May aid hair growth*

May help with arthritis and join pain*
To read more about nettle's medicinal uses, you can find here.
You can find Nettle in our Collagen Booster products and Stress Relief Tea.