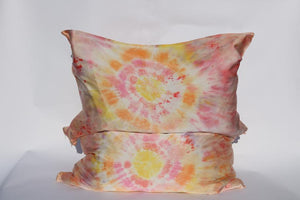 Yellow governs the solar plexus chakra situated below the ribs.  Yellow energy is related to perceive and understand which also connects us to our mental self as the third chakra. Adding pink creates bonds of the astral body, which is more subtle than the physical body and contains prana (life force energy).  The color orange is associated with confidence, joy, and enthusiasm and spiritually effects creativity, emotional balance, sexuality, harmony, passion, freedom, intuition, and expression of emotions.  Visualize as you rest and activate in peaceful slumber. 
Featuring: 
100% Mulberry silk
19 momme
600 thread count
Two Queen sizes sold in a set 20"x 30"
Hidden Zipper

Hypoallergenic and breathable natural, organic fiber

Hand dyed using non-toxic, fiber reactive procion dyes

Comes in a hand dyed cotton pouch with care instructions 

Great for preventing wrinkles, dry skin, and bed head

One of a kind 

Please note that colors may be more vivid in person, and patterns are on both sides. 
For best results, gentle hand wash inside out in cold water using mild liquid detergent. For machine washing, use cold water, gentle cycle in a delicates laundry bag. Avoid tumble dry. Do not use bleach. Hang dry. Thank you for choosing a handmade item!