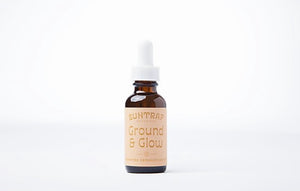 Ground & Glow is a blood moving tonic, best taken taken before meals. Taken daily, this formula may improve circulation, metabolism, nutrition, and elimination in a gentle and gradual way. G&G can also be taken in times where some movement and nourishment is necessary, such as during a hangover or after eating heavy, greasy food. A potential side effect of taking this formula as a daily tonic is clear & glowing skin!

30ml
A tincture formula of Burdock, Dandelion, Red Clover, and Ginger
 Dosage: Shake before use. 1-3 dropperfuls with water, 2-4 times a day.
 Ingredients: Arctium lappa, Taraxacum officinale, Trifolium pratense,
Zingiber offcinale, organic neutral spirits.

(All herbs grown on site at Suntrap or bought in from small farms they trust)