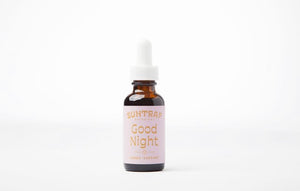 GOOD NIGHT

A solid night of sleep can set the tone for good health. This is a somniferous extract for the occasional restless night. Valerian root is the key herb in this formula, known to have a gently tranquilizing effect on the nervous system. Cali Poppy is a mild sedative which helps to ease nervous tension. Skullcap is a nerve tonic, an herb which nourishes the nervous system in addition to relieving tension. Nepeta settles the nerves and soothes an anxious mind. Chamomile is the formula catalyst, a classic sleepy time herb,
SLEEP SUPPORT
30ml

A tincture formula of Valerian, Cali Poppy, Skullcap, Nepeta, Chamomile.
 Dosage: Shake before use. 1-3 dropperfuls with water, before bed.
 Ingredients: Valeriana officinalis, Eschscholzia californica, Scutellaria lateriflora, Nepeta cataria, Chamomilla recutita, organic neutral spirits.

(All herbs grown on site at Suntrap or bought in from small farms they trust)